Information / Getting Around
Getting Around Amsterdam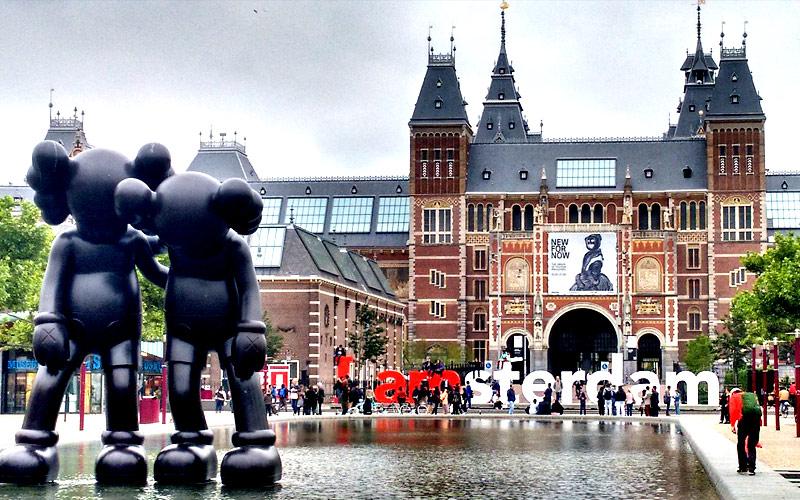 A perfectly reliable public transport system is functional for locals and travelers in the city of Amsterdam. But there is other best method of maneuvering around the city which includes bikes. For tourists, it might seem a bit of troublesome task to move on two wheelers on your own in a new unfamiliar place but if you can get hold of it; you will find it as an ideal way to deal with many canals and narrow roads of this city. Once you arrive at the Amsterdam Airport Schiphol, you first need to reach your hotel to get settled. The airport is only a few kilometers away from the city center. A direct railway connects the airport to the Central Station but you need to buy a valid train ticket (card with a chip).

For places to visit in Amsterdam, you can explore different transportation systems working in and around the city:
Bus: GVB operated bus service works for the public in Amsterdam. Many buses begin their routes every day from the Central Station. You can buy your OV-Chipkaart/GVB ticket from this station. The cost of your each travel through GVBs would be charged according to allotted time (1 hours, 24 hours etc.) along with the time of travel. Daytime buses charge less than the buses working routes used during nighttime.

Tram: Traveling through tram gives you the most scenic view of the city as you travel around. 10 of the 15 tram routes begin and end at the Central Station of Amsterdam while other 5 works on other different stations. Remember that boarding of the tram is towards the rear and if you wish to hop out; you would need to press the button "Deur Open".

Metro: A small metro system operates in Amsterdam functional on 4 different lines including 50, 51, 53 and 54. Most of the residents traveling in from the suburbs use the metro trains. If you decide to use this transportation system, make sure you validate your ticket at the beginning of the platform before taking metro train.

Bike: One of the best ways of traveling around Amsterdam is using bikes. You will find bike shops everywhere around the city that rent thousands of bikes to travel throughout the city at affordable costs. Rental of these bikes would be around 15 euros for a day and around 50-60 euros for the whole week. However, you may need to give a substantial amount of deposit for rental. Biking would be an excellent way of exploring the city and Sundays would be a perfect time for those worried about traffic coming along. Sunday mornings usually don't have much traffic as the city remains sleepy.

Ferry: Five ferry routes are operated by the GVB for getting across the IJ channel while enjoying a beautiful view of the harbor.

Taxis: Taxis can be called as well as picked up at the taxi stands but the city has many cabbies who might be a bit directionally challenged. There are taxi drivers who may or may not speak English too. So, you may face a bit of difficulty when traveling with them. For much reliable taxi service, you can depend upon Taxi Centrale Amsterdam.

Water Taxis: These are much expensive but are an interesting unique option for tourists to enjoy a scenic view of the city.

Car: Traveling by car in Amsterdam may not be the best option and you may find it more expensive and frustrating if you decide to drive yourself. There will be difficulty in finding parking space (even if you find, boots are expensive) and driving on narrow roads with traffic, pedestrians, bikes, cyclists on all sides of you would make your journey even more troublesome. For those who wish to explore outside Amsterdam too, renting a car may be a sensible choice but otherwise, you may use other transportation systems for your ease and comfort while exploring things to see in Amsterdam.
Featured Tours In Amsterdam