Information / Things to do
The famous scuba diving spot along the coast of Red Sea, Hurghada, is one of the most prominent tourist destinations in the world! This is a resort town famous for its gorgeous beaches, traditional souks, sparkly nightlife and the very impressive Hurghada sightseeing. It has developed from a small fishing village to one of the most attractive destinations in Egypt. Tourists who are traveling to Hurghada might find it difficult to plan a trip, here is a list of the top things to do in Hurghada to help tourists plan an amazing trip to the this beautiful resort town!
Hurghada Water Sports:
Water sports is the most common activity for tourists in Hurghada and being a famous Scuba diving destination, Hurghada offers amazing water sports experience to the tourists!
Hurghada Daily Scuba Dive Trip
This is a 1-day diving tour, which is perfect for beginner divers as well as qualified divers. Tourists will get a chance to dive twice in the spectacular coral gardens just off-shore Hurghada. For experienced tourists, this trip might take them to some advanced diving spots if the weather conditions allow! After the adventurous diving, lunch will be served to the guests!
Full-Day Snorkeling Trip to Giftun Island from Hurghada
This package offers 2-in-1 fun to the tourists; a fun boat ride in Red Sea and beaching at the stunning beaches of the Giftun Island. Enjoy sunbathing, swimming and spot the dolphins in the sea in thus 8-hour long tour! Lunch will be served on the boat!
Swim with Dolphins Tour Hurghada
Tourists who love dolphins, this is a perfect package for them as this will take the tourists very close these friendly creatures of the sea. Tourists will be picked up from their hotels in Hurghada and taken to the Dolphin World in Makadi bay! Swimming with dolphins happens twice in day except for Tuesdays. From 10:30a.m to 12:30p.m before the show and from 4:30p.m to 8:00p.m after the show. Get a chance to dance with these fun mammals and ride on them and have the best experience of your lifetime!
Dolphin House and Banana Boat Fun from Hurghada
This tour takes the tourists close to the dolphins! Tourists can enjoy the best of Hurghada snorkeling and observe the dolphin's behavior under water! Swim with the dolphins and enjoy with these fun-loving mammals! Tourists can also relax on the boat under the sun, where lunch will be served!
Hurghada Transfers & Ground Transport:
Tourists do not have to worry about transfer and ground transport in Hurghada as there are packages that make transferring and traveling from one place to another easier and full of convenience.
Private One-Way Transfer: Hurghada Airport to El Gouna
The transfer service offered runs 24/7 in Hurghada. Tourists can reach El Gouna without any chaos and stress as this transfer service takes the tourists to El gouna as soon as they arrive at the airport.
Hurghada Private & Custom Tours:
Tourists who do not wish to travel with a group of other travelers, they can choose the private and custom tours. They can move around the city at their own pace and according to their own preferences!
Private Tour: Cairo Day Trip from Hurghada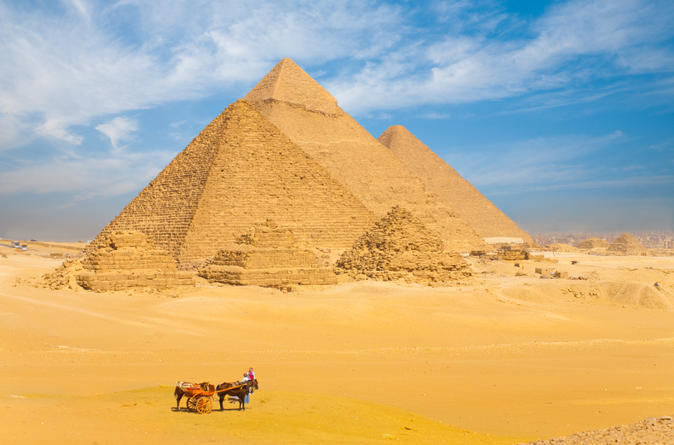 This is private tour which will take the tourists from Hurghada to Egypt's capital city, Cairo. Tourists will enjoy exploring the top attractions of Egypt such as Great Pyramids and Sphinx, Egyptian Museum and Khan el-Khalili bazaar. Tourists can choose to stay as long as they want on a location they like!
Private Overnight Tour to Luxor from Hurghada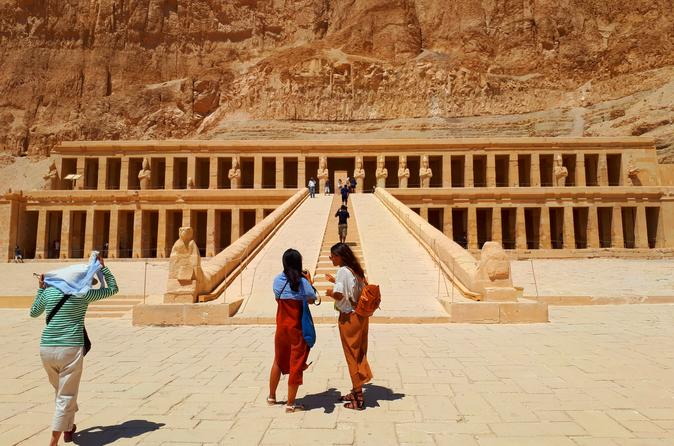 This is a night tour to the biggest open-air museum in the world, Luxor. Tourists will be taken from Hurghada to visit the Egyptian city that is home to the world's one-third historical ruins, where they will enjoy exploring historical sites such as Valley of the Kings, Temple of Queen Hatshepsut, the Colossi of Memnon, Karnak and Luxor Temple. This will be a guided tour led by a licensed Egyptologist tour guide. This is a private tour so there will be a private car, driver and a guide to help the tourists have the bets trip!
Hurghada Outdoor Activities:
The resort town in Egypt, Hurghada, offers so many activities to the tourists. They can enjoy the best of Hurghada sightseeing or get indulged into other amazing outdoor activities.
6-Hour Evening Experience with Show & Dinner
With this 6-hour tour package, tourists will get a chance to enjoy the impressive oriental atmosphere of the Alf Leila Wa Leila hotel, followed by a very entertaining traditional music and light effects show. The dinner that will be served to the guests will consist of the most ambrosial local and traditional dishes!
Hurghada Day Trips & Excursions:
Day trips and excursions are the best way to explore the best of Hurghada and nearby attractions for tourists who are in Egypt for a short period of time!
Dolphin House Snorkeling- Banana fun-Hurghada
For tourists who wish to get away from the crowded beaches and the souks, this is a perfect tour package for them. Tourists will be picked up from the hotels in Hurghada and taken on a boat ride in the red sea. Tourists can either ralx at the deck of the boat or dive into the sea to explore the diverse wildlife under the water. If the day is food, tourists might even get a chance to some in close contact with dolphins. Visits to three most famous snorkeling sites is included in this tour package along with a buffet lunch, and complementary drinks. After the lunch, tourists can also enjoy banana boat ride. At the end of the tour, tourists will be dropped off to their respective accommodations in Hurghada.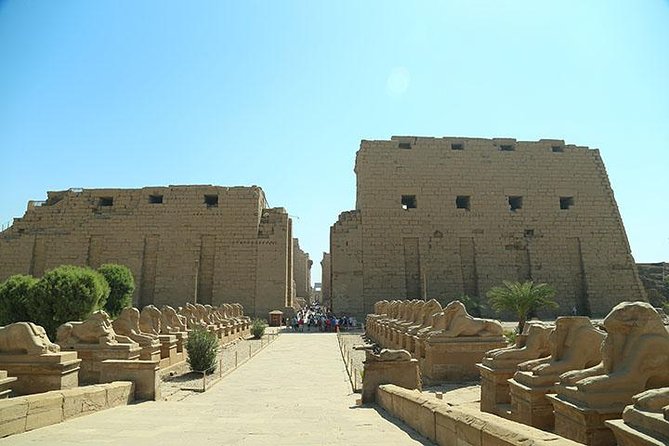 Luxor is one of the most popular cities in Egypt due to its numerous historical ruins 3500 year old. This day tour will take the tourists from Hurghada to Luxor so that they can explore the city which has the most historical ruins on its land!
Tour To Luxor From Hurghada By Bus
Enjoy a day trip by bus to the most important city of Egypt, due to its high status in history. Due to its historical ruins, Hurghada is known as the world's largest open air museum! King's valley, Karnak and the Hatshepsut Temple are the top highlights of this tour. The tour guide that will accompany the group of tourists will talk about the legends and history associated with these attractions in multi languages, followed by a delicious lunch at an oriental restaurant.
Guided Day Trip to Cairo from Hurghada By Bus
Egypt is known for its unique structures, pyramids. Visiting Egypt and not going to see the pyramids of Giza and Sphinx is a very regretful decision. This tour will take the tourists from Hurghada to Cairo in an air-conditioned bus, with a toilet, where the tourists can enjoy the top Egyptian attractions such as Great Pyramid and the Egyptian Museum. The expert Egyptologist will talk about the history and facts of the visited attractions.
Luxor Day Tour from Hurghada, El Gouna, or Makadi
This tour package is for tourists who wish to visit Luxor from Hurghada. Along with a visit to Luxor this package will take the tourists to explore other attractions along the River Nile. Also, tourists will enjoy an exciting boat ride in the world's longest river, River Nile.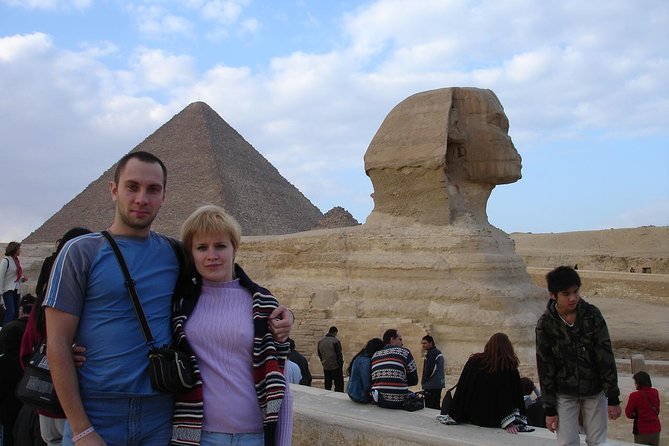 This is day tour, which will take the tourists to the capital city of Egypt Cairo by a coach. Tourists will enjoy visits to Giza and the Pyramids and the much famed Egyptian Museum home to almost 120,000 Egyptian relicts of history.
Day Trip to Luxor from Hurghada with Hotel Pickup and Lunch
Explore attractive Egyptian sights such as the Colossi of Memnon, Valley of the Kings, Temple of Queen Hatshepsut and Temple of Karnak on a day trip to Luxor from Hurghada. Tourists will be picked up from the hotels and then dropped back at the end of the tour. Lunch in a local restaurant is included in the tour package.
Hurghada Cruises, Sailing & Water Tours:
To enjoy the best of Hurghada sightseeing, cruising and sailing are a perfect way. For tourists who love water activities, cruising is one of the top things to do in Hurghada!
Paradise Class Semi Submarine
This tour package will not take you sailing or cruising above the Red Sea but it will take you underwater in a submarine ride. Tourists will explore the amazing marine life very closely as the submarine will take the tourists 4 meters below the sea! Along with this a 30-minute snorkeling session will also be included in the tour.
Giftun Island Mahmya Beach and Snorkeling Day Trip from Hurghada
Tourists will be taken to a beach at Giftun Island and the boat ride will start from the Hurghada marina. Tourists will enjoy swimming and snorkeling, followed by a delicious lunch buffet! This tour is a perfect way to relax in Hurghada!
Featured Tours In Hurghada