Food in Rome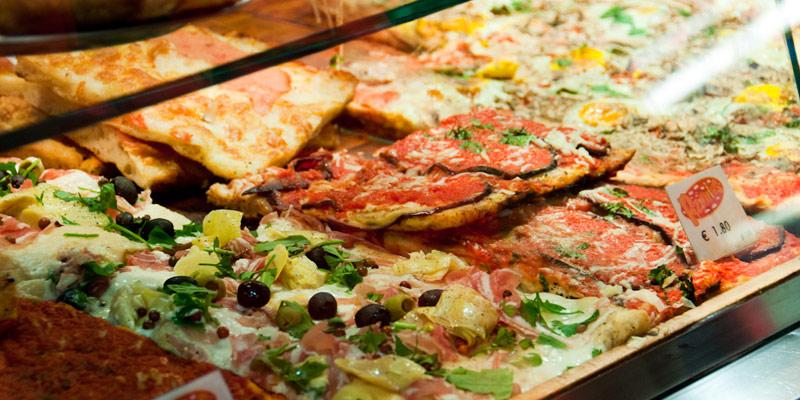 The city of Rome finds that the treasures of culture, history and food are unsurpassed matters of fame for it. The city food culture is resistant to change as its classical drinking and dining culture with local cuisines does the true magic for locals as well as tourists. From carbonara to cacio e pepe, everything that Rome offers is loved. Even though constant evolutions in the form of transitioning food palates is taking place giving Roman people new and exciting ways of eating and drinking.

So here are some recommendations on what to and places to eat in Rome:
Cucina Romana:
If you wish to try and enjoy traditional cucina romana, you will get these for reasonable prices at the Armando al Pantheon and Cesare al Casaletto.
For Roman, Umbrian or Sardinian specialties in moderate rates with delicious tastes including pizzas served with a perfect smile, don't miss visiting the Tavernaccia Da Bruno.
A different combination of modern techniques and local flavors are offered at the Roscioli and Mazzo.
Pizza: There are plenty of spots for different styles of pizzas:
Tonda, Sforno, Sbanco, and La Gatta Mangiona serve Neapolitan style pizza.
Da Remo and Pizzeria Ostiense offer Roman pies with a thin crust.
Antico Forno Roscioli – Pizza Bianca
Forno Campo de' Fiori – Pizza Rossa
Da Artenio in the Mercato di Testaccio – delicious little pizzette.
Pizzeria Emma – Roman style with gourmet flare.
Panificio Bonci.
Fish:
For those who love seafood especially fish, we recommend you to go to this upscale fish restaurant named Il Sanlorenzo located in the
Center of Rome. It gives you formal dining with elegant ambiance. This place formally serves some of the finest dishes of fish in Rome.
Roman Jewish Classics:
For kosher strict meals, you can try the following:
C'e' Paste Cafeteria style serving pasta.
Boccione Forno del Ghetto well-known for its pizza ebraica (amazing fruitcake), almond paste, and ricotta cakes.
Nonna Betta – restaurant famous for carciofi alla giudia and pezzetti fritti.
Local Street Food:
Bisket, Artichoke – Testaccio or San Giovanni.
Trapizzini
Kidney sandwiches – Mordi e Vai.
Fried pastry cream and potato croquettes – Supplizio.
Halal (Muslim) Food:
Even though there is Muslim population in Rome but it may be difficult to find halal food in Rome. You will find many kebab stalls though and some restaurants as you explore Rome. Here are some options for Muslims for eating while in Rome:
Peri Peri Halal Grill – serving salads, biryanis and other halal foods.
La Via Della Seta – Middle Eastern restaurant serving the best of falafel sandwiches and tabouleh.
Gelateria La Dolce Vita – Muslim and Vegan-friendly. Look for non-alcoholic flavors.
Contemporary Sweets:
For contemporary Roman pastries and gelato, you can opt for one of the following options:
Al Settimo Gelo
Fior di Luna
II Gelato di Claudio Torce
Roscioli Caffe
Andrea De Bellis
Fatamorgana
Coffee and Drinks:
Coffee can be found everywhere but favorite spots are Sciascia (1919 historic shop).
Other newer options could be Roscioli Caffe, Marjani Coffee and Pergamino.
Famous wine bars in Rome are Bulzoni, Litro, Beppe e I Suoi Formaggi and Il Goccetto, Remigio and Enoteca Trucchi.
Popular beer spots are Ma Che Siete Venuti a Fà, Stavio and Open Baladin Birra +.
Other Cuisines:
If you wish to enjoy non-roman dishes, there are options too:
Mesob (Ethiopian)
Janta Fast Food (Indian)
Doozo (Seasonal Japanese)
Featured Tours In Rome