Information / Top Attractions
Dubai Dubai Red Dunes Safari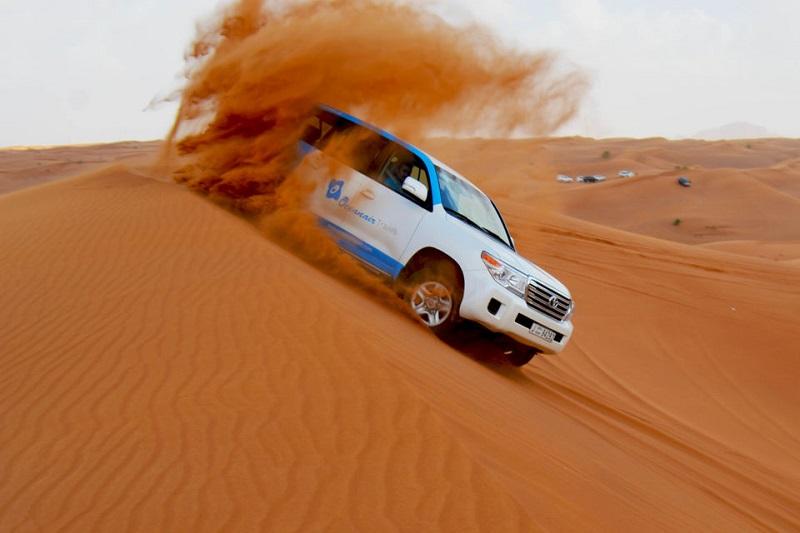 Discover the beautiful red desert landscape on the outskirts of Dubai on a 6 to 7-hour evening tour to a Bedouin camp. Enjoy breathtaking views of the desert dunes, and entertaining activities upon arrival at the camp.
Following a pick-up at your hotel, drive to the center of the desert on approximately 60-minute journey to your 1st destination. Upon arrival, stop for about 20 minutes for some warm-up-for safari things such as deflating your 4x4's tires to suit the desert ride. Take a restroom break before going into the desert while our team are waiting to catch up the convoy, or spend that time enjoying optional Quad bike ride.
Then, drive across the desert red dunes on a thrilling 4WD dune bashing activity. If you are feeling truly adventurous, opt for the high dunes option where the level of the dunes is increased.
Once you are done with dune bashing, stop in the heart of Dubai desert to try a hand at desert sandboarding. If you already know skating or snow-boarding, it will come easily to you - just stand on the board provided and glide over the soft & smooth sand dunes. You'll find this even more effortless than snowboarding! Conquer more dunes with your board and experience the thrills.
Enjoy a panoramic view of the sunset (Not Guaranteed-Chance 50% to catch it in desert before the camp), before going to an authentic Arabic camp. Experience a traditional Arabic welcome of coffee and dates, and learn more about the culture through multiple activities and entertainments. Relax in the beautiful Bedouin encampment, and watch traditional tanura dance shows, belly dancing, and more.
Take a ride around the desert sands on the back of a camel (a short ride which can be repeated). Get a traditional henna painting on your hands, or smoke a shisha pipe to get into the spirit of the Arabians. You are invited to put on traditional costumes for a souvenir photo. You can even get a photo taken with a falcon on your shoulder!
Featured Tours In Dubai